MERRY HELL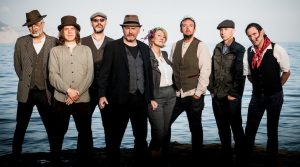 Having made numerous festival appearances over the past few years, MERRY HELL is a band founded on the ever evolving Folk tradition – music made by the people and shared by the people. Though our hearts and souls are tuned to the songs which came before us, we bring you new words and music forged from our own experiences, from the lows and the loves of our lives. Our art is energy and our hope is unity. Our pleasure is to please: let the audience be the acid test and let the music speak for itself…
Honey and the Bear
1415-1500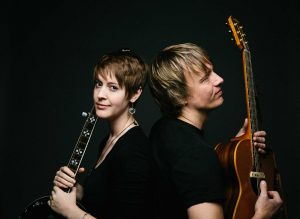 British folk and roots duo, Honey & the Bear, combine delicately interweaving vocal harmonies with emotive and evocative songwriting. With a diverse range of sounds and textures, and rhythms that flow from the fast and furious to gentle ballads, their live performances are spirited and dynamic. Conjuring stories in song, they tell tales of Suffolk folklore, courage, passion and heartbreak. The multi instrumentalist pair, comprised of songwriters Jon Hart (guitar, bass, bazouki) and Lucy Hart (guitar, ukulele, bass, banjo, mandolin & percussion), have been writing and performing together since early 2014, having met at a songwriting event two years previous. Since then, they have played at many revered venues and festivals across the UK as well as travelled across the channel for their first European tour. 2019 sees the release of their first full studio album 'Made In The Aker' with a UK tour to follow in October.
The Hut People
1300-1400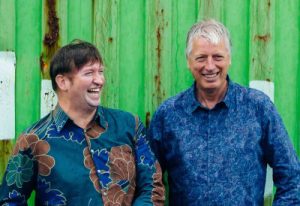 Taking the audience on a musical journey around the World, English instrumental duo The Hut People (Sam Pirt and Gary Hammond) have firmly established themselves as one of THE most unique, entertaining and best-loved acts on the UK folk scene today.
Mixing global rhythms with folk tunes from Quebec to Spain, Scandinavia to Sussex and everywhere in between, this is a quirky celebration of our rich musical heritage – and it works so well!
This is a show like nothing you've ever seen before – expect feel-good dancing tunes, audience participation, step dancing, Quebecois foot-percussion (whilst playing the accordion!) and humour aplenty.
Tunes forging pathways and routes underground; across the oceans and traversing motorways. Infectious melodies and foot-tapping rhythms packed into containers laden with grooves from South Africa, Quebec and across the globe; North, South, East and West.