Friday's Performers
GF Club Ballroom – Local Folk Rock Night
Tradarrr

Tradarrr are a Folk Rock Supergroup. The legendary PJ Wright (Little Johnny England, The Dylan Project etc.) hand-picked Mark Stevens, Marion Fleetwood, Gregg Cave, Guy Fletcher, Brendan O'Neill and Gemma Shirley to put together a unique sound. T
hey have reimagined folk rock, painting from a much larger palette, introducing the tints, tones and textures of a whole panoply of musical genres. As you'd expect, here are the precision percussion, searingly tasteful guitars, melodic basses and fiery fiddles that one associates with the genre. But in addition, one finds brass in truly British styles – the dazzling brightness of Purcell, the oomph of Elgar, the emotive richness of a Yorkshire brass band soloist – but also hints of jazz, trad and modern, and even the occasional mariachi riff, string sections, and countless astute references to a long legacy of pop and rock in its many forms.
However, this is by no means an "everything including the kitchen sink" approach. Elements are used sparingly, tellingly and, most important of all, appropriately. When less is more, the sound is stripped back – listen to their almost acapella take on My Lagan Love and no further explanation is needed. Many of the songs and tunes they perform are familiar classics. Many are simply gems from the tradition that band members have always wanted to perform – could there be a better reason for singing a song?
21.45 – 23.00
Clarion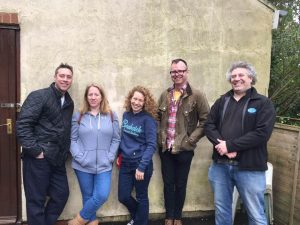 Clarion were simply massive on the local scene, back in the 90's and even performed at Fairport's Cropredy Convention in 1993. They still have a massive following, as proven when they reformed for a sell-out, one-off, charity gig last year but, have done another at the Cropredy Fringe since. This is the Original line of Fred Davies, Matt Davies, Claire Trivett, Edd Frost and Alison Court. Let's hope they stick around for a while longer!
20.30 – 21.15
25 Years Late

25 Years Late were formed by festival chairman, Kevin West, to play his own original songs in a band setting. Now the line up has developed into a core of Kevin and Stevie Cooper, also a talented songwriter, key and guitar player. The line up is flexible around this core and for the festival will be bringing the vocal delights of Stevie's sister, Jodie Cooper, exquisite fiddle from Rowan Kodrotoff, bass by Mike Moyse and Percussion by Drew Pountney. Expect a varied set of original pieces and selected covers done in our own style from gentle ballads to full on folk rock.
19.30 – 20.15
Methodist Hall
19.30 – Hector Gilchrist
20.30 – Paula & Stuart Tindall
21.30 – Pete Joshua
Banbury Cross – Club Room
Local Youth Performers Night
19.00 – Blue Watson
20.00 – Katie Wickham
21.00 – Alice Lees
22.00 – Karl Herring
Banbury Cross – Front Bar
19.00 – Dave & Ann Reader
20.00 – Dave Fry
21.00 – Sharp as Razors
22.00 – Acousticana
23.00 – Glymjack
The Reindeer
19.00 – Pete Joshua
20.00 – Acousticana
21.00 – Scarecrow
22.00 – Katie Wickham
The White Horse
19.00 – 23.00 Music Session