Doors open 1900
FRIDAY EVENING DOWNSTAIRS
1900-1930 – Mark Pidgeon (Also MC)
Mark runs the local Wychwood Folk Club but, he's also an accomplished singer/songwriter. He will be our MC this evening and open with a few of his songs.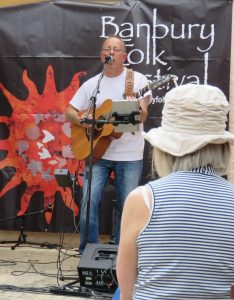 1930-2100 – Ukes of Chaos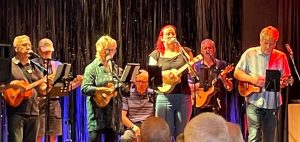 Ukes of Chaos strive to be a ukulele band with a difference, none of that 'plinky-plonky' stuff here! Covering blues, rock, pop and folk from the 1920s through to the noughties and beyond, they play a range of covers guaranteed to get you singing and dancing along. Formed in 2021, most of the group have been playing together for several years before breaking into a gigging band. They like to have a bit of fun, and cause a bit of chaos!
2115-2300 – Liam Vincent and The Odd Foxes
Liam Vincent and The Odd Foxes formed in early 2020, drawn together around songs about the modern world – what we are doing to it and what it is doing to us. With folk, indie and rock influences, the songs all have something to say, either by whispering in your ear or rattling your ribcage. After years of gigging, Liam started writing again in 2019, initially as a solo project. He soon found that he missed being in a band, and so The Odd Foxes formed.