ANTHONY JOHN CLARKE

All Anthony John Clarke ever wanted to be was a writer of songs. From the minute he heard Barry Maguire singing the song "Eve of Destruction" and held the single "Like A Rolling Stone" by Dylan in his hand.
From that point, he says, he was doomed to that life that could so easily end in failure. Irish-born and educated, he became a teacher but song writing remained his raison d'etre.
It was perhaps inevitable that by his mid-thirties he found his way into the music profession and was discovered in turn by audiences all over the world. Twenty-five years on he has a string of self-penned albums to his credit, a legion of fans and a date sheet that stretches two years into the future.
This includes what appears to be at least half the folk clubs in the UK as well as assorted village halls, theatres and arts centres, plus the plum MC's job in 2017 at the 50th Cropredy Convention.
25 Years Late
2030 – 2115

25 Years Late were formed by festival chairman, Kevin West, to play his own original songs in a band setting. Now the line up has developed into a core of Kevin and Stevie Cooper, also a talented songwriter, key and guitar player. The line up is flexible around this core and for the festival will be bringing the vocal delights of Stevie's sister, Jodie Cooper, exquisite fiddle from Rowan Kodrotoff, bass by Mike Moyse and Percussion by Drew Pountney. Expect a varied set of original pieces and selected covers done in their own style from gentle ballads to full on folk rock.
Eric Sedge
1930-2015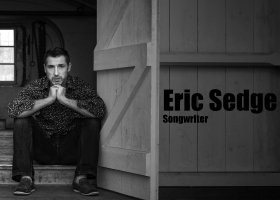 Hailing from the farming heartland of East Anglia and raised a stones throw from the coast, Eric Sedge takes inspiration from the tales and folklore of his native county. With songs of the sea and the soil, drawing on a youth spent working the land, Eric Sedge provides a unique insight into the history and traditions of this quiet corner of England. 2019 sees him as a special guest on the Richard Digance UK tour following a 2018 appearance at the prestigious Cropredy Festival.
Information on events at other locations, will follow.