Saturday at a glance.
AFTERNOON
MC – Kevin West
1200-1230 – Rebecca Mileham
1230-1345 – Roaming Spirits (break 1300)
1400-1515 – Bone Saddle (break 1430)
EVENING
1900-1930 – Linda Watkins (Also MC)
1930-2100 – Scarecrow (break at 2015)
2115-2300 – Acoustic 80's (break at 2200)
SATURDAY AFTERNOON UPSTAIRS
1200-1230 – Rebecca Mileham
Rebecca played classical piano and violin for years but got to know the folk music scene when she moved to Oxfordshire. She now provides violin and vocals in folk/indie band Liam Vincent and The Odd Foxes, and has begun writing solo songs using piano and violin. Her first EP was released in 2022 and will be available for sale at The Festival.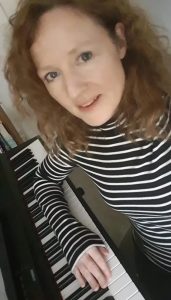 1230-1345 Roaming Spirits (break 1300)
This duo has proven popular at Banbury Folk Club and is quickly garnering a reputation further afield.
Roaming Spirits are a multi-instrumental acoustic Folk duo based in Northamptonshire. Formed in August 2018, they are Jenny Williams (Vocals, Mandolin, Gazouki, Whistles, Clarinet) and Pete Laurie (Vocals, Guitar, Mandolin, Bass).
Roaming Spirits perform traditional music, cover contemporary songs and have begun to add their own compositions to their repertoire.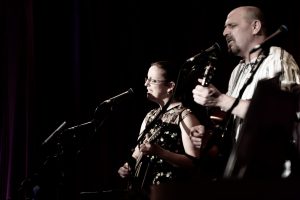 1400-1515 – Bone Saddle (break 1440)
Bone Saddle are a band which formed out of the acoustic music scene around Witney and Finstock. They play a soulful and upbeat mix of blues and Americana. Expect some old songs and some new songs that sound like old songs.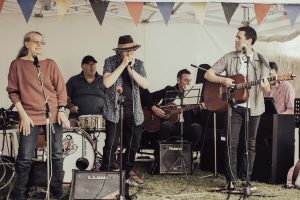 SATURDAY EVENING UPSTAIRS
1900-1930 – Linda Watkins (Also MC)
Linda will be opening with a couple of songs and will be our MC. Welsh born singer and writer of songs which live happily on folk stages, Linda now dwells amongst the green fields of England. Linda's performances range from solo to band combination and always involve a collection of different instruments which lend their individual tones to the atmosphere of her songs.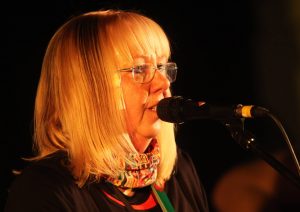 1930-2100 – Scarecrow (break at 2015)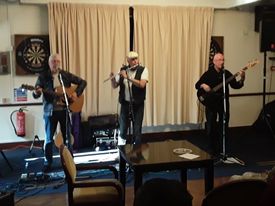 SCARECROW emerged in 2006, formed by three members of a popular Oxfordshire barn dance band who shared a common desire to develop our collective breadth of musical styles, instruments and influences. The band brings together the classical music of Rey Lear, allied to folk tunes from David Moore with jazz and blues influences from Gordon Raitt. The resulting "Scarecrow Sound" reflects these diverse abilities and influences in both the repertoire and arrangements of well known and sometimes more obscure songs and tunes.
2115-2300 – Acoustic 80's (break at 2200)
Fronted by Owen Paul, who had a massive hit in 1986 with 'My Favourite Waste of time'. Owen's band consists of 2 acoustic guitars, backing vocalists Lynne Johnstone and Juanita Wilson and a percussionist, performing a stunning collection of stripped back 80's hits including his own, interspersed with brand new original material from his forthcoming Americana/Country album 'Overblown Superstar". In 2020 he released 5 tracks including the Heritage Chart number 1 'Beauty of the Sun' and a Lockdown chorus version of My Favourite Waste of Time which featured guest artists Toyah, Glen Matlock, Lee John, Carol Decker, Cheryl Baker and many more.