Banbury Folk Festival – FAQs
How will I get my tickets? 
We don't do physical Tickets. A reference number will be e-mailed, texted or posted to you, approximately 2 weeks before the event. You will need to bring that with you (no need to print it out), to exchange for wristbands at General Foods S&SC. To buy your tickets, go to 'Tickets' for information on how to do so. Please note there is no admin/booking fee payable.
I am a day visitor – what are the Car Parking arrangements? 
Day visitors will need to use the town car parks. There is long stay parking available at the Railway Station, Bolton Rd, Market Place (limited to one hour up to 7pm then free) Windsor Street and the NCP Car Park in George St. There is also car parking in Cherwell Drive (a multi-storey and a flat park) but, due to building work, other parking is severely restricted. There is no parking available at the club itself. Please check the pay machines in Car Parks, to avoid incurring any fines.
If you have mobility problems, call 07845 821041 and we will arrange to collect you, from the local car parks, when we're free.
How do I find out when artists are performing? 
There is a brief outline on this site, for the main venue. Other venues will be announced as soon as bookings are confirmed. A full programme will be on sale at the festival.
Where can I perform? 
We are unable to accommodate travelling minstrels this year but, you are more than welcome to busk outside any of the venues.
Will there be Food Stalls at the main venue? 
We do not have permission for Food Stalls. But there are many bars, restaurants and take away food outlets within easy reach of the Town Centre. All venues also serve food. The Festival organisers will have a cake stall upstairs at General Foods S&SC.
Will there be Craft Stalls at the main venue? 
Unfortunately we do not have space for Craft Stalls, but take advantage of Banbury's many shops and Saturday Market, all close to the Town Centre. There will be a cake stall in the main venue, selling a variety of home made cakes.
Can I bring my dog? 
Only dogs required to assist people with disabilities will be admitted into the venues. Those bringing caravans or motor homes may bring dogs as long as they are kept on a lead at all times. We would also ask, that you please clean up after your dogs.
I am a wheelchair user. Will I be able to access all the events? 
Yes, there is a lift at the General Foods S&SC. Other events are all on the ground floor.
Can I get to the Festival on public transport? 
Banbury Railway Station is about 5 minutes walk from the Town Centre and the Bus Station is 1 minute's walk away. You will be able to take the shuttle-bus from General Foods S&SC, to the Campsite, if you have a tent.
Will I be able to buy tickets at the Festival? 
This will be dependent on whether all tickets have sold out before the Festival, so you will need to check the website where an announcement will be made if this is the case. Individual Event tickets will be sold at the venues subject to capacity.
Where is Indoor Camping? 
We are unable to offer indoor camping this year.
What time can I get on the campsites?
Please also see the important information at the foot of this page.
The Old Dairy Farm, School Lane, Cropredy, BANBURY. OX17 1PX will be open from 12.00pm (midday) on Friday. Weekend camping is £15 for Friday to Sunday nights, when you purchase a Weekend Ticket. There is no camping available for day ticket holders and no camping only tickets. The site must be cleared by 12.00pm (midday) on Monday. We advise you to try and avoid arriving between 2.30pm – 3.30pm on Friday as there is a school immediately by the campsite and parents will be collecting their children. For those who use maps, instead of SatNavs, directions will be sent to you, with the location of the site. A map below, shows the location of the campsite. If you have difficulty viewing it, we can e-mail you a copy or, time permitting, post one.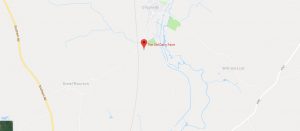 What facilities will there be on the campsite? 
Outdoor camping for Caravans, Motor Homes and Tents.
24 hour access to toilets. Unfortunately, there are currently no disabled toilets on site. The site owners are trying to get one up and running before the festival but, this is not guaranteed.
There is a shower on site, which is disabled friendly.
There will be a free Shuttle bus service between the Campsite and General Foods S&SC, from 5pm on Friday until 6pm on Sunday. There will be breaks in this service, to allow our drivers to rest. A mobile number will be available for campers during those times. This will only be by text. Calls will not be answered. We ask for a voluntary donation of £1 per person per trip, to assist in covering the minibus hire.
The will be no breakfasts available at the campsite.
All water in the toilet block is drinking water. In addition there will be a drinking water tap made available.
We ask that you take your rubbish and chemical waste home with you please.
Are there concession tickets for students, unwaged or senior citizens or disabled people? 
Sorry – but there are no concessions available. We believe that we have kept the ticket price at an affordable level. Carers, for wheelchair users, can get a ticket for half price and under 10's don't pay.
How do I get a refund? 
Sorry no refunds except in special circumstances to be discussed with the Organisers. You can transfer tickets to someone else but, please advise us if you do so.
I've lost/forgotten my paperwork what can I do? 
Report to the Festival Information Desk on arrival (at the Campsite if you are camping there, otherwise at the General Foods S&SC) where we will be able to trace your original application, from your name and post code.